Milestone Systems is the leading global developer of open platform software for managing IP network-based video surveillance. Milestone XProtect® software is powerful and advanced yet easy to use, reliable and proven. The open platform allows best-of-breed solutions to 'video enable' business: reducing costs, optimizing processes, protecting people and assets - and ultimately increasing value in your organization's products and services.
XProtect® Go
[IP video surveillance starts here]
XProtect Go is a free version of Milestone's market-leading video management software (VMS) designed for small business installations and video surveillance in private residences. XProtect Go lets users experience the true benefits of IP video and the Milestone open platform for free. Seamless upgrade options make XProtect Go a risk-free entry into a reliable and secure IP video surveillance solution today and tomorrow.
Download XProtect® Go for FREE. To ensure continuous system functionality of XProtect Go, please register XProtect Go within 30 days after downloading it.
XProtect Mobile consists of two items, an application for your smartphone or tablet and a server component. The XProtect Mobile server component needs to be installed on the server that runs your XProtect surveillance system or on a dedicated server.
Download the application for iOS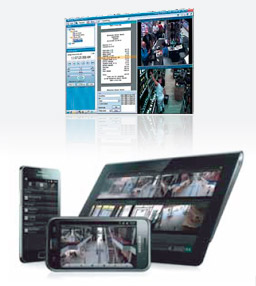 XProtect® Enterprise
[Feature-rich surveillance software with ultimate usability]
Prices on request by project
XProtect Enterprise is designed for medium and large-scale installations, including multi-site deployments. It offers powerful administrator tools that are easy to use and ensure fast, efficient management of this highly scalable open VMS platform.
A broad selection of add-ons and 3rd party integrations (see below), plus a fully documented SDK, offer rich scope for tailoring XProtect Enterprise to meet your exact needs.
Intuitive operator clients make it simple to view and control an unlimited number of connected cameras and devices.
The master/slave server architecture means you can easily scale the system as your needs develop, thereby maximizing return on investment.
XProtect Enterprise uses a distributed server architecture that lets you place recording servers in the networks where the cameras are actually connected. This optimizes bandwidth usage. There are no limits to how many slave recording servers can be connected to an installation.
Other versions available on request [+352 31 16 64]