GoPro produces the famous HD HERO® line of wearable and gear-mountable cameras and accessories, making it easy for people to capture and share their lives' most exciting moments in high definition.
No more missed memories because the camera was stuffed in the backpack or left in the car. Wear your GoPro and get the shot that makes you look like a HERO. Many exciting cameras and accessories are on the way...
HERO3: Black Edition
Black Edition is the most advanced GoPro, ever. No expense was spared during its development, resulting in a GoPro that is 30% smaller, 25% lighter and 2x more powerful than previous models. Wearable and gear mountable, waterproof to 197' (60m), capable of capturing ultra-wide 1440p 48fps, 1080p 60 fps and 720p 120 fps video and 12MP photos at a rate of 30 photos per second, the HERO3: Black Edition is the world's most versatile camera. Built-in Wi-Fi, GoPro App compatibility and the included Wi-Fi Remote make the HERO3: Black Edition all the more versatile, still.
Key Benefits:
Wearable, mountable design
Immersive, wide angle capture of your favorite activities
Professional quality HD video & 12MP photos
Built-in Wi-Fi enables remote control via included Wi-Fi Remote or live video preview and remote control on smartphones and tablets running the free GoPro app.
Rugged housing is waterproof to 197'/60M and captures sharp images above and below water
Compatible with all GoPro mounts for attaching to gear, body, helmets, vehicles and more
Compatible with LCD Touch BacPac™ and second generation Battery BacPac™
Backwards compatible with older generation BacPacs™
New advanced camera settings: Looping video, Continuous Photo, Manual White Balance control, Protune Mode, allows to shoot photos while recording video and more.
Key Specs:
Professional 4K Cinema 15 fps / 2.7K cinema 30 fps / 1440p 48 fps / 1080p 60 fps / 960p 100 fps /720p 120 fps and more video capture
12MP photo capture with 30 fps burst
Ultra sharp ƒ/2.8 6-element aspherical glass lens
Ultra wide angle / reduced distortion
Wi-Fi Built-In
Wi-Fi Remote Compatible (included)
GoPro App Compatible (FREE)
60m Waterproof Housing
Assorted mounts and hardware included for attaching to helmets, gear and more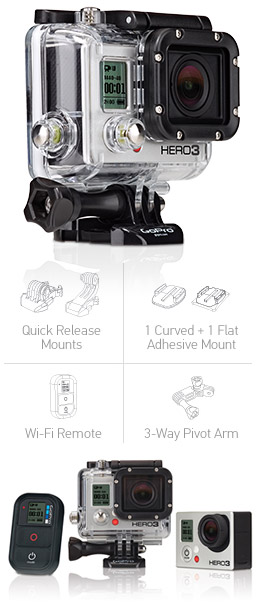 Other models and versions available on request [+352 31 16 64]
Shipping not included, pick-up possible. Luxembourg shipping costs: 7,00 €