Flashlight is an important friend for a man during his growth. It can help us fighting with horror, and then finding the beautiful and amazing view hided in darkness.
MicroFire mark is the outstanding mark among the tactical illumination products. MicroFire is the manufacturer of the most powerful, compact, and heavy-duty HID, LED and Xenon tactical flashlights.
MicroFire all lines are patent protected, designed with high flexible convertibility for multiple purposes missions select. With the genuine accessories, the MicroFire flashlights can run the peak performance and enhance their capacity.
Microfire M3
[Tactical Flashlights LED + Xenon lamp]
M3 is the most convenient M flashlight of MicroFire. Driven by three CR123A batteries or two Microfire 150A rechargeable lithium-ion batteries, with original XENON bulb + 6 LEDs lamp, M3 has two brightness modes.
Lamp: Xenon + 6 LEDs 9V
Torch Lumen: 120 + 10 lumens
Tactical Runtime: 50 min
Dimension: Total length 178mm
Diameter: 43mm
Weight: 280g
Battery: 2 x Microfire 150A rechargeable lithium-ion batteries
C2 Fast Charger: 3h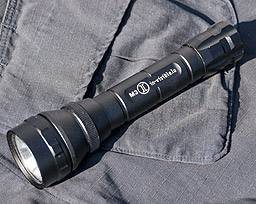 Other models and versions available on request [+352 31 16 64]
Shipping not included, pick-up possible. Luxembourg shipping costs: 7,00 €