For more than 50 years, Grass Valley has been, and continues to be, at the forefront of on-air and production innovation, creating some of the most accomplished products and services available in the market. With hundreds of patents—with many representing the most fundamental technologies that drive our industry—numerous Emmy® Awards, and countless other industry accolades, today's Grass Valley is built from best-of-breed pioneers making it the most progressive video equipment manufacturer and solutions provider in the industry. Grass Valley is also the only manufacturer providing equipment throughout the entire content creation chain—with cameras, switchers, routers, editors, servers, production automation systems, and more.
EDIUS 6
[Edit Anything]
No other NLE gives you so much versatility combined with sheer speed of editing. EDIUS® supports real-time editing of all popular standard-definition (SD) and high-definition (HD) formats. Edit anything. EDIUS 6 has over 100 new features and improvements, over 60 of which are shown here, grouped by category. Don't forget that many of these filters and effects are real time, which is why EDIUS is considered by many to be the fastest way to edit.
New features in EDIUS 6 include:
10-bit editing support
2K/4K resolution support
Free-shape mask filter
16 camera multicam editing
Proxy mode workflow
Canon XF format and EOS movie format support
Exporting in AVCHD format to a media card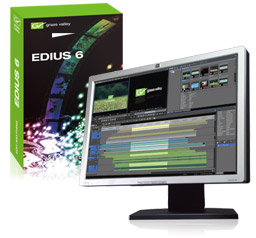 HDSTORM with EDIUS 6
[HDMI-Based Editing For The Digital Generation]
A single PCI Express form factor board and packaged with a full version of the latest EDIUS editing software, HDSTORM™ allows you to work with HDMI inputs and outputs, and has a Canopus HQ hardware codec built-in for optimized, CPU-free capture.
HDSTORM empowers you with constantly synced, full-resolution preview of effects and content directly from the EDIUS timeline. The power of having the Canopus HQ codec on-board means you won't be restricted by CPU speeds or workstation limitations when ingesting or creating high-quality Canopus HQ AVI files for editing. Keeping the compression processing separate from your CPU brings new reliability and system performance to the editing and effects creation environment.
Working as a perfect combination of software and hardware, HDSTORM can handle any mix of HD and SD video content; unlimited video, audio, title, and graphics layers; and any combination of real-time effects.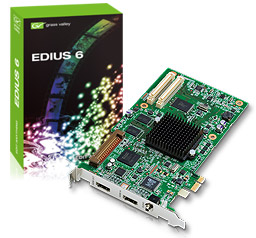 STORM 3G with EDIUS 6
[3G-SDI Editing with HDMI Monitoring Output]
STORM™ 3G hardware is a premium, high-quality solution for multi-format editing—one that supports 3G-SDI-based editing and tapeless workflows and the ability to preview projects in real time, using affordable HDMI monitors. Based on the PCI Express form factor, it includes EDIUS nonlinear editing software, 3G-SDI inputs and outputs, an HDMI video output for full-resolution, real-time preview monitoring, and embedded HDMI audio for high-quality audio monitoring.
Among the features of the STORM 3G solution are reference input support for blackburst and tri-level sync, machine control for external VTR ingest, and optional VTR emulation software that lets you control an EDIUS Workstation like a VTR for direct playout from the workstation.
STORM 3G also empowers you with a constantly-synched, full-resolution preview of effects and content directly from the EDIUS timeline. As for the STORM 3G board, it can handle any mix of high- and standard-definition (HD and SD) video content; unlimited video, audio, title, and graphics layers; and any combination of real-time effects. It also offers real-time, full-resolution, full-quality HD and SD video output.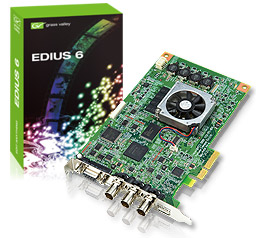 STORM 3G ELITE with EDIUS 6
[with 19" Breakoutbox]
STORM™ 3G Elite consists of a breakout box with a PCIe 4X I/F card for desktop connection (4X mode: up to 1080p50/60) as well as an Express 34 card (1X mode: up to 1080i) for laptop connection. It ships with a full version of EDIUS 6.
STORM 3G Elite provides the most comprehensive, most complete signal interface available today. Video interfaces include dual 3G SDI, which can be used as either one 3G SDI signal or one pair of high definition and standard definition signal outputs. Other interfaces include 1080p-capable HDMI I/O, composite (SD only), and component (up to 1080i) analog video I/O.
For audio, STORM 3G Elite has four pairs of AES/EBU interfaces (as eight BNC connectors, each accommodating eight audio I/Os up to 48 kHz, 24-bit). Another four pairs of XLR balanced audio are also available, with a stereo pair each of balanced AND unbalanced audio monitor out. A switchable line/mic (switchable phantom power) is also available for a dedicated voice-over input.
The uniqueness of STORM 3G Elite continues with control/sync. STORM 3G Elite has two RS-422 interfaces, one for controlling a VTR as master, another for control of a slave. Linear timecode I/O, reference in/through/out interfaces (which accept both bi-sync and tri-sync level), and a locking power connector round out the rest of the interfaces.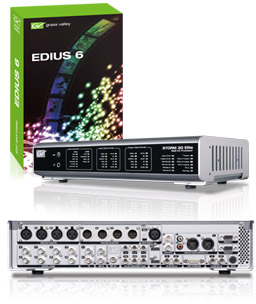 ProCoder 3
[The Ultimate Software Format Converter]
Our ProCoder® 3 software combines speed and flexibility into a streamlined video conversion tool. Widely acknowledged as the leading software transcoder, it features extensive input/output options, advanced filtering, batch processing, and an easy-to-use interface.
Whether encoding MPEG video for DVD production, producing Windows Media for streaming or transcoding between NTSC and PAL, ProCoder software makes video format conversion quick and easy. With it you can encode a single source to multiple targets simultaneously, run multiple conversion jobs back-to-back in batch mode, or use drag-and-drop preset icons to start conversion with a single click.
The ProCoder 3 software has an array of high-performance features, including a design that efficiently leverages the power of your CPU, broad codec support, local and networked use capabilities to fit your workflow, and queue management to ensure your jobs are performed in just the right order.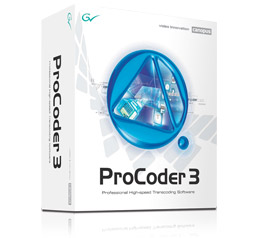 Other models and versions available on request [+352 31 16 64]
Shipping not included, pick-up possible. Luxembourg shipping costs: 7,00 €